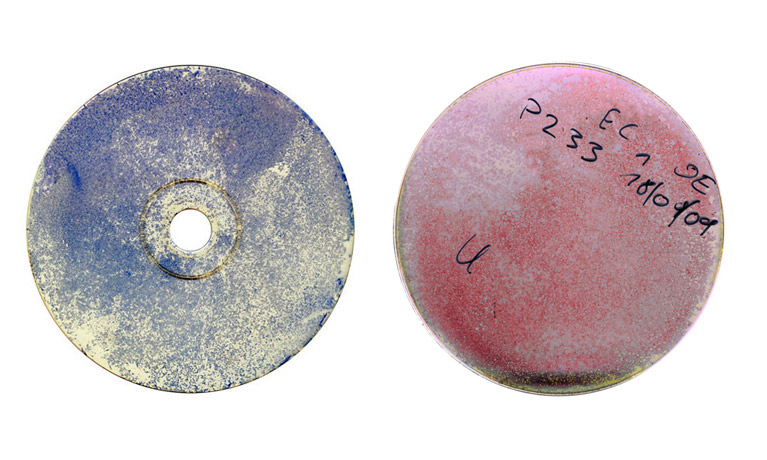 left: Thomas Feuerstein, Thomas Seppi, (H)EAR, 2009
---
stained cartilage cells isolated from human ear tissue and grown on a CD
---
biotechnological realisation: Thomas Seppi, Department of Radiotherapy
---
and Radiooncology, Medical University of Innsbruck
---
---
Cartilage cells, taken from the artist's ear, grow on the surface of a transparent CD. With the help of a technology, originally developed for cell counting, a modified CD player reads the cells and a special software transforms the data into audio signals.
---
---
right: Thomas Feuerstein, Thomas Seppi, RADIO VAN GOGH, 2009
---
cartilage cells from a human ear, CD
---
biotechnological realisation: Thomas Seppi, Department of Radiotherapy
---
and Radiooncology, Medical University of Innsbruck
---
---
For the installation entitled RADIO VAN GOGH, the cartilage cells taken from the artist's ear grow between two CDs in a HEPES-containing culture medium. The data, read by a modified CD player, that is kept at a temperature of 37 degrees centigrade, are transformed into audio signals and streamed on the Internet in real time. The cell growth thus is audible for the duration of an exhibition, i.e. for up to three weeks.